Alca Zagreb has a long-standing tradition of responsible behavior both internally, taking into account its employees and externally to the wider community.
Recruiting local people in less developed economies such as Sveta Helena, Zelina, Vrbovec, Sinj and Pleternica promotes people's employment and contributes to better quality of life.
Through series of donations to organizations and institutions in need, Alca assists the work of these institutions and associations to be better.
Alca in action – helping citizens of Gunja
Great floods hit eastern Croatia in May 2014. The most vulnerable were parts of the counties Županjska I Brodska Posavina. Even 8,951 people were affected by floods, and most of them had to leave their homes.
Alca Zagreb has been involved in helping people in flooded areas with a donation of 50,439.81 HRK. Also, Alca Zagreb has given up its vehicles to transport humanitarian aid to flooded areas.
As an expression of the gratitude, the mayor of Poreč, Mr. Edi Štifanić, awarded Alca Zagreb the "Letter of Thanks" by the Croatian Red Cross for helping the flooded areas of the Republic of Croatia in Zagreb in September 2014.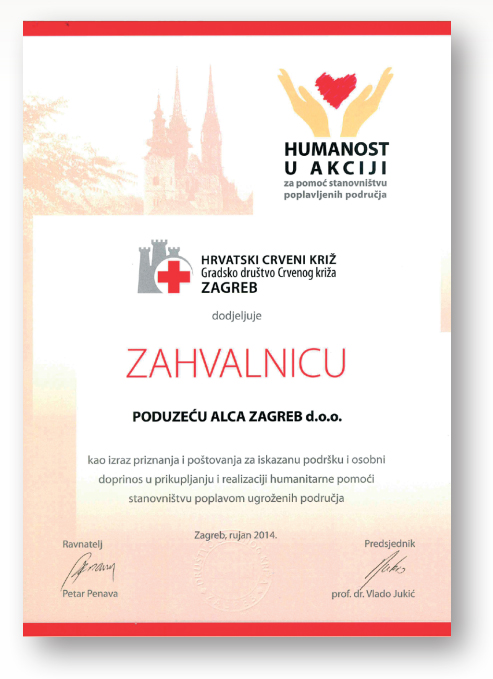 Dom Sveti Josip – House for abandoned children
Alca Zagreb has a long tradition of cooperation with the Dom Sveti Josip. The co-operation started in 2002 and since then, Alca has regularly donated goods and financial support, helping the work of the House for abandoned children.
Center for Inclusive Work Activities (Centar za inkluzivne radne aktivnosti, CIRA) is a non-governmental non-profit organization (association) founded in Zagreb in 2004. CIRA is a provider of social services in the community to people with intellectual disabilities from a wider area of the City of Zagreb.
Alca Zagreb, by employing CIRA users in the central logistical warehouse in Sveta Helena, enabled people with intellectual disabilities to get involved in the world of work through a specific model of work activities and with the support of mentors assigned by Alca Zagreb.